DES DOSSIERS DE DIVISION
FROM THE FILES OF DIVISION
CASE NUMBER: 376 - 69 - Joshua Brock
Bartek Borowiec with wing by Steyn
Informations fondamentales de Suspect
Basic Suspect Information
SUSPECT NAME: Joshua 'Cockatiel' Brock (Formally Jameson)
KNOWN ALIASES: Icarus
AGE: 22
DATE OF BIRTH: 13/1/1991
GENDER: Male
AFFILIATION: X-Men / Genosha
ABILITY:
Large wings allowing flight
Limited healing
'Third eyelids' to allow for above-cloud flight
Large lungs four times the size of humans and far more efficient at oxygen intake in 'thin air'
Added muscles to cope with flight
Hair and eyes are both natural 'obvious' traits
Voice is able to replicate any sound heard or imagined
Able to use voice destructively
Immune to his own voice.
Is known to occasionally turn blue
Able to mesmerise with his voice
It should be noted that when under the influence of Kick, his wings become pure energy (including the metal one) and he appears to have yellow lines similar to Darren's own, as well as slightly glowing eyes. It's unknown if Kick has any other effect on him, as Jay only takes it rarely.
OCCUPATION: Doesn't so much have a job as a hobby he gets paid for. A professional poker player, Jay is quite possibly one of the best in New York, though he keeps that particular achievement under his hat. He is also an important pin for the Genosha smuggling train, able to locate mutants who want to go and get the nessecary paperwork to move them on. Is currently working through his graduation to train as a music professor at XU.
LAST KNOWN LOCATION: Xavier's University
Détaillé Soupçonner Apparence
Detailed Suspect Appearance
ETHNICITY: White American.
ESTIMATED HEIGHT: 5'8"
ESTIMATED WEIGHT: 170lb
BUILD: Jay is best described as a footballer. The added muscles for his wings and the sheer level of fitness he's at means Jay is incredibly toned, and without the wings would look top heavy. With the wings he balances out nicely. Though short, he is proportionate, slim though solid with muscle.
EYE COLOUR: Bright gold (glows slightly when under the rare influence of Kick)
HAIR COLOUR: Bright letterbox red.
HAIR STYLE: Very long in defiance of his upbringing, usually left loose but occasionally tied back. Very, very rarely plaited, except for when he's in his role as Icarus of the X-Men - because no one wants to eat hair while they're kicking ass.
PREFERRED DRESS: Can't wear tops for obvious reasons, though occasionally he'll get fed up and try to customise one. Usually found in blue jeans and sneakers, occasionally boots, and fingerless gloves to help him when he's gripping onto a wall for landing. All his clothes are very, very expensive.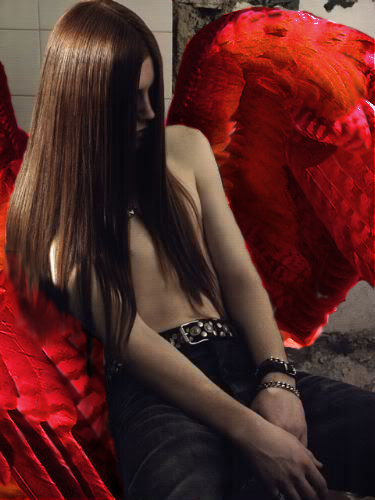 Profil de personnalité
Personality Profile
KNOWN HABITS:
Gambles. He loves gambling, but is sensible enough to make sure it's not a habit.
Chain-smokes, thanks to Darren. Especially when he's stressed.
Has developed a sudden love for sci-fi.
Listens to a lot of music.
Plays guitar to a professional level.
Owns a rabbit by the highly original name of Patches.
Does drink quite a bit, but again, it's not a problem.
Takes New Orleans' unofficial motto truly to heart.
TEMPERMENT: Jay is very easy-going. Very little seems to ruffle his feathers (literally) these days, having learned to take whatever life throws at him in his stride. He has very strong beliefs and will stand up for them until he can't any more, and is very protective of his friends and what he considers family. Though he can have the odd depressed day, he tries to make sure he has a smile and a cigarette for anyone who needs it. He prefers to watch and hold his tongue than jump in feet first, occasional wisdom beyond his years showing through. If he has a fault, it's his temper. It's not completely controlled, and though it takes a lot to make him lose it it's vicious and he can turn violent.
Les Informations douteuses d'Histoire
Suspect History Information
MOTHER'S NAME: Mary-Anne Wormwood
AGE: Late 30s
OCCUPATION: Housewife
FATHER'S NAME: Jonathan Brock
AGE:
OCCUPATION: Doctor
SUSPECT HISTORY: Born in Georgia, Jay never knew his father until very recently. He was born a cripple, unable to walk or hold himself upright, with red hair and gold eyes. He had operation after operation, none of which served to do anything other than bankrupt his single mother, who was struggling to support a permenantly ill child and his freak of a twin sister. Unlike her brother, Jillian was born with her mutation of blue skin, prehensile tail and bat wings.
Then his mother met a Televangelist. They got married, and their financial woes disappeared. But Jillian ended up being locked in the attic and Jay was forced to dye his hair to hide his 'oddities' as his step-father used his wheelchair-bound son to garner more viewers and up his paycheck. This started to build resentment in the young Jay, who refused to pander to his step-father's wishes.
This all changed when his mutation finally began to become apparent - it turned out the extra 'growths' against his spine that had crippled the boy were pseudo-wings, and over a painful few weeks they grew out properly. Jay was able to walk for the first time in his life, and learnt how to fly despite his step-father's attempt at confining him.
It was about this time that live footage showed the Reverend Jameson being punched on stage by the 'angel' he'd called down to banish the blue-skinned 'devil'. Jay did not take kindly to being told to hurt his beloved twin sister.
The pair ran away from home at that point, settling for a while with a band in New Orleans, down on the Bayou, which is where he takes his current accent from and uses as his home city instead of Georgia. After seeing their step-father and mother in a car on one of his 'tours', they both spooked and joined a few mutants heading for a commune called the Fringes. They didn't settle there long, however - after a few disagreements between the leader and Jay, the twins were invited to go to a mutant school called Xavier's, promised free boarding and education. They took the opportunity with both hands, and there the story should have ended.
Unfortunately it didn't. A series of kidnappings spooked the pair, and they once again fled for Jono's Fringes, now underground - literally - in the sewers. Although it wasn't ideal, they were safe, and Jay took up thieving to help the community. He tried to keep bits aside so that he and Jill could one day get out and build a life for themselves.
Then the Massacre happened. Besides the child Leech, Jay was the only one to survive out of the mutants down in the sewer. Jill died in his arms after having taken a shot that was meant for Jay, saving his life. To this day Jay still doesn't know who or why. It took him a week to bury Jill, then another two for him to recover before he made his way back to the only safe haven he knew - Xavier's University.
And the rest, as they say, is a story for another time.
[AKA Scum will update this later, promise, just argh essay]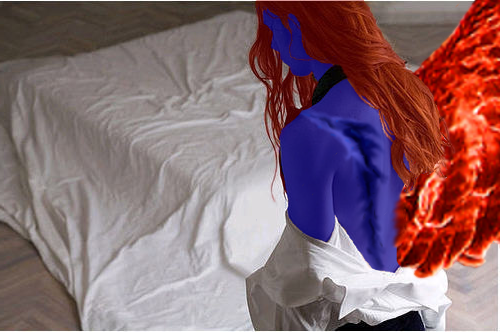 [Edited on 22-11-2011 by Scumfish]