Obviously being this is a Kurt-Centered forum Marvel comes up the most, but let's not forget the Deserving Competition, DC.
Some great titles have been under their pen and many a great writer (Grant Morrison, Geoff Johns, Paul Dini) have made firm stamps for the industry in their marsh.
I am currently reading only a few DC titles, but I'll mention those as I bring up the ones I feel deserve notable mentions at this time.
Batgirl
, which I've only read a couple issues of, is being talked about as
the
female titular character to read in Comic-World. Better than Powergirl, far better than any Spider-Woman or Ms. Marvel release, apparently Spiral as the new Batgirl is so fresh and so fun, it's attracted an entirely new fanbase to the Bat-Family. HARDCORE FANGIRLS.
The Flash
By Geoff Johns... well... it's Geoff Johns.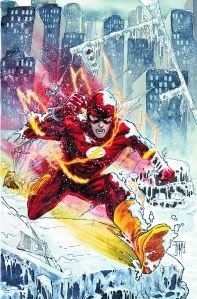 He's head of the creative department of DC for a reason. He's penned some of the best Green Lantern arcs, the best DC crossover events, and has put his mark on many DC movie/television series. The story is worth picking up, sure, but I gotta say Francis Manapul's artwork is what you're really looking at here.
To give you an idea of how bloody brilliant the scripts are for this, and how well they mesh with the artwork:
This was a two page spread. Quite pretty, I assure you
Some great stuff. Beautiful arwork, Eisner worthy.
Also worth mentioning:
Grant Morrison's
Batman
and
Batman & Robin
. With the recent news that there is now to be a Bruce Wayne international Batman and an In-Gotham Dick Grayson as Batman, it seems Morrison has played a clever card and kept the fans of both happy. Everyone gets what they want. To top it off, Damian Wayne as
Robin
has seen unprecedented positive feedback. More Bat-Fans are calling for extra Damian than any call-outs for Tim Drake.
Speaking of Tim Drake, while
Chris Yost
had been writing
Red Robin
for a bit, it seems now the new writer Fabian Nicieza has continued the story and pace of the title by bringing in new villains for a new hero, and new problems for this phenomenal new book as well. The artist recently changed (unfortunately) but that's no reason to drop the book altogether, I would suggest a quick read.
I couldn't tell you what is going on in
Will Eisner's The Spirit
, but I love the artwork and have always loved the character, unfortunately my wallet does not share my emotions.
J. Michael Straczynski has kicked off a
Superman
Arc unlike any before it. Being Superman has been off fighting War On(For?) Krypton for the last YEAR upon his return, he discovers some have lost faith in his reliability. He himself has lost faith in his own humanity, so to get it back he begins to walk the country he so dearly loves from one coast to the other, in order to reconnect with his lost humanity, passed onto him by his adoptive and loving parents, the Clarks. Good Ole' American story.
With
Brightest Day
Wrapping up the Blackest Night/Brightest Day crossover event, I'd highly suggest everyone grab the TP's of that. The artwork is great, the way it effected every book was unique, and thankfully, they made sure they didn't
infect
the titles with their crossover the way so many Marvel events have. If you didn't want to read about Batman/Flash/Supes dealing with Blackest Night, there were event books related to each character SEPARATE from their title books. It was like every character got a bonus book with their name on it each week. Fun stuff if you're an Aquaman fan! Don't believe me? Read it!
KILLER DOLPHINS!
[Edited on 20/8/10 by Ult_Sm86]