Hi Everyone!
Those of you who entered the 2010 Spring/Summer Writing Challenge here might remember the Nightcrawler crochet dolls I offered as prizes.
Nightcrawler Dolls
Nightcrawler and Spiderman
I actually taught myself how to crochet specifically so I could make myself a Nightcrawler plushy for my birthday.
Well, since then, I've a hammered out a few more patterns. I've made Faramir from Lord of the Rings, Link from Zelda, Bob from ReBoot, Spiderman, and a few others, on request from friends.
Now, I'm working on a new project: Smurfs! I recently worked out a Smurf pattern and I now have a small collection of handmade crochet Smurfs: Papa Smurf, Hefty Smurf, and Sassette Smurfling. I'm hoping these cute little guys will help me scrape together some food-fund money for all the research trips I need to take this semester. Here's an example of what they look like: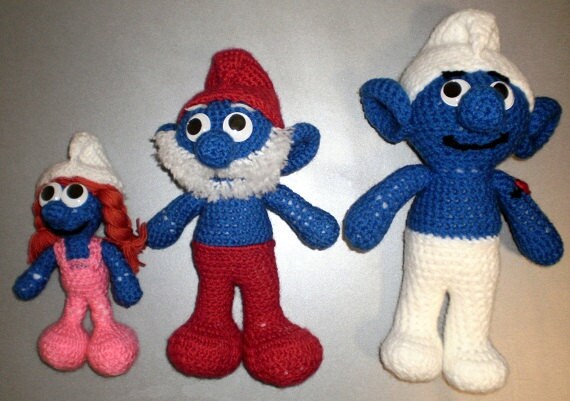 This isn't a sales pitch or anything. I'm really proud of these little guys and I wanted to show them off.
But, if any of you are interested, my Smurfs are on sale at RowenaZahnreiCrafts:
http://www.etsy.com/shop/RowenaZahnreiC ... ef=si_shop
No pressure to buy, seriously, but if you do take a peek at my Smurfs, please let me know what you think of them! I'd appreciate any feedback, or suggestions for improvements I might work into the pattern!
Thanks!