In which Pup sizes up the Potentials and Picks a Paramour
Ever had one of those ideas when you're completely tripping balls, stoned out of your brain on medication that sounds absolutely fantabulous?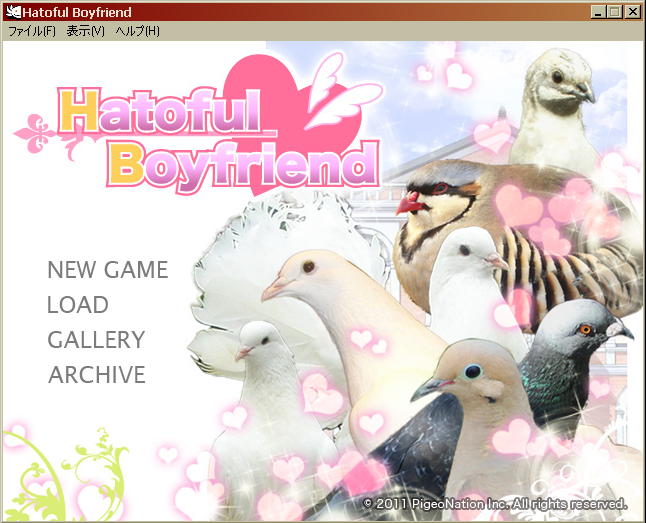 Yeah, that happened to me. I decided in my sickly-wisdom to download Hatoful Boyfriend, a Japanese, high-school dating sim with one unique difference from all other. All the potentials love interests are pigeons. Yes. Actual pigeons. Not boys turned into birds, real, feathered avians. Since this sounded like so much excellent crack when I mentioned it in chat, it was suggested that I do a 'Let's Play' type thing, to share this wonderful experience with you all.
... May God have mercy on my soul.
So when I load up a new game I'm prompted to input my character's name, which given the setting and the nature of the game, I decide shall be 'Pussy Galore'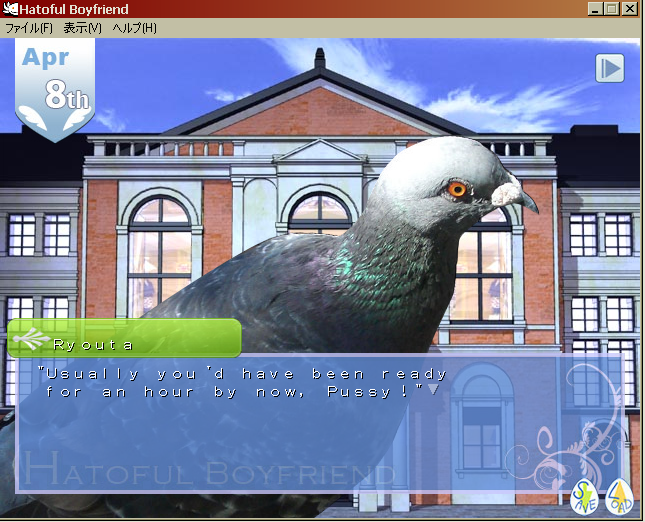 And straight away confirmation that I picked absolutely the right name. This is
Ryouta
, Pussy's best friend she's known since he was a hatchling ... and apparently she has to catch her breakfast as she lives as a 'hunter-gatherer"?
Submitted without comment, mostly because when I saw it I snorted and it felt like my sinuses were trying to explode out of my face.
So we head to class to meet the other potentials and since they all have special
'what they'd look like as a human portraits'
they must all be romanceable. So first we meet teacher-sensai, the quail
Nanaki Kazuaki
, who specialises in maths and physics and ... just fell asleep at his desk. Right. Then
Sakuya
the upper-class, racist, asshole fantailed dove who's refusal to introduce himself to the commoners could result in; "the system will collapse and we'll all turn into kulaks and dissenters" (direct quote from game). Also, allegedly he's a french transfer student, 'cos ... y'know, Shirogane Sakuya is such a french name
I then bump into anti-social bookworm mourning dove
Nageki
in the library, and then meet the "ever-popular trend-setter and ladies' man"
Yuuya
, who is also Sakuya's 'half-breed' brother.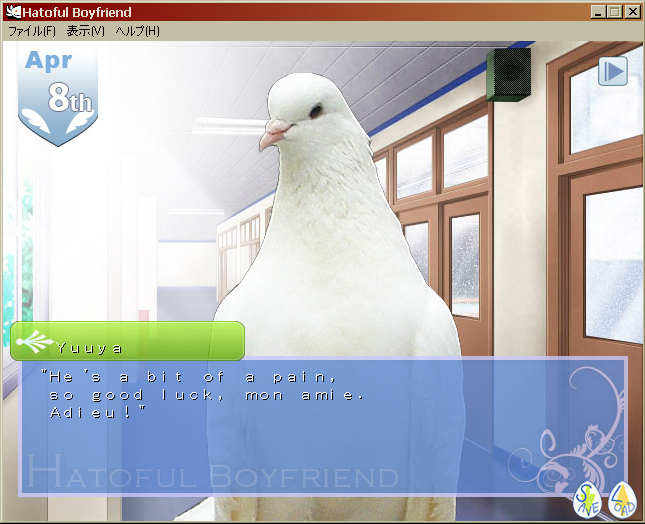 And he's a
-bird! Surely this is relevant to our interests? Nevermind the hilarious bit of dialogue where he asked me 'Hey, you're Pussy, right?' (absolutely the best name for the protagonist) and she asks 'How do you know my name?' 'Well, I make a point of knowing the names of all the pretty girls ... plus you're the only human here.' Not the sharpest pin in the cushion, our Pussy.
So at the end of the day I'm guessing my bestest buddy Ryouta is meant to walk me home, only he's gone to the doctors office as he's a bit sickly. So naturally I head down there to find him only to discover no one is there, and I'm sure of that since;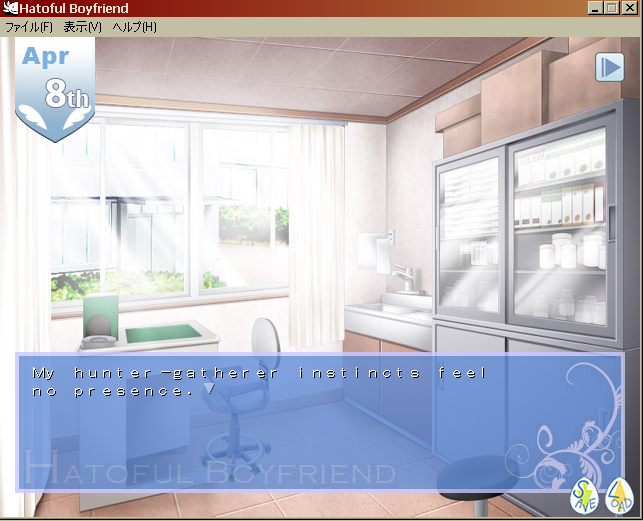 So naturally Pussy is sad-facing and decides to poke around office while no one is there and investigate the drugs (which sounds pretty realistic for a high school student to me
).
WHEN SUDDENLY!!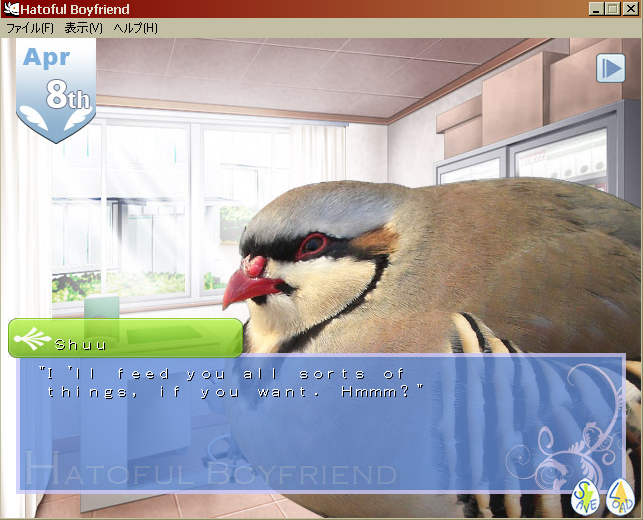 Creepy school
ninja doctor Shuu
the partridge bursts in, demands to know why I'm there and bustles me out, so Pussy decides to check out the school track with thoughts of joining the one of the school clubs.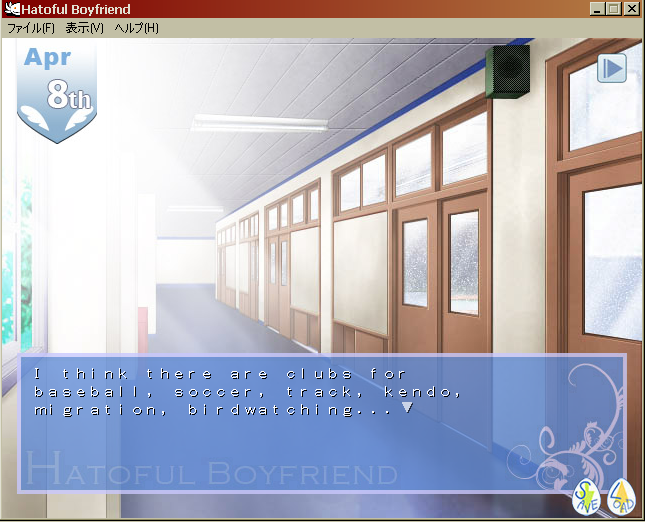 ... A birdwatching club? In a school full of bird? Anyone else find this as weirdly disturbing as I do?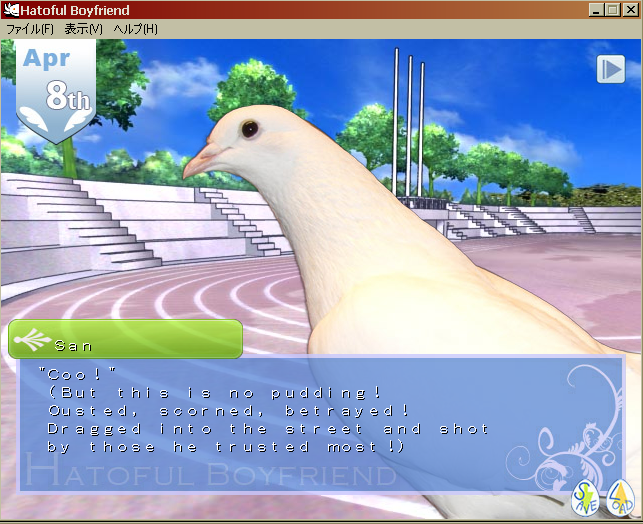 ... I think I'm in love. This fantailed dove is rage-hopping up and down on a squished pudding because it's not "the true pudding"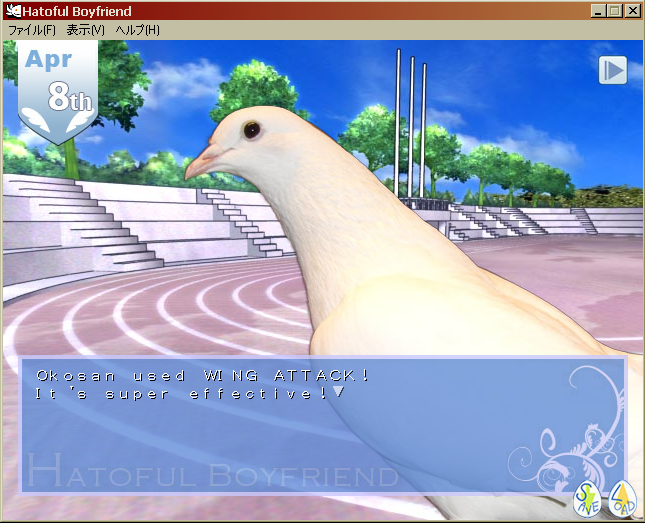 ... Yep, pretty sure that this here is gonna be Pussy's soulmate (and hello sinuses trying to explode out of my face again!). This is
San
, who fits the hyper-random animie character trope to a tee, but what I really love about him is that his 'human version potriat' is just a drawing of dove in a school uniform, and I'm pretty sure I'm having to guess at what he's saying. Hell, if I'm gonna woo a bird, might as well be the birdiest bird out there.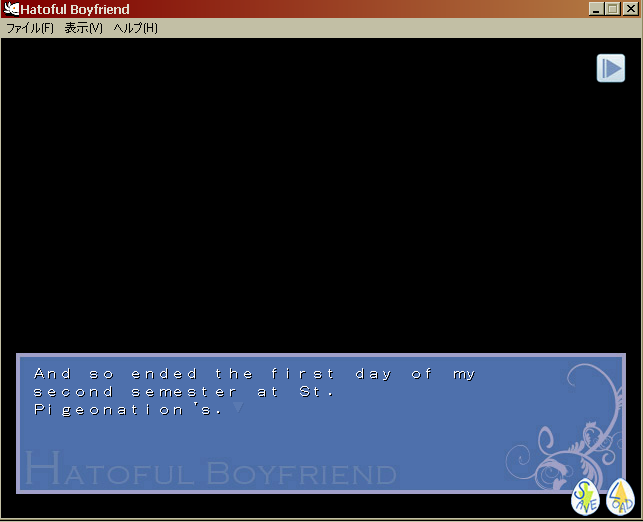 UNTLL NEXT TIME!